Welcome to Our Parts Department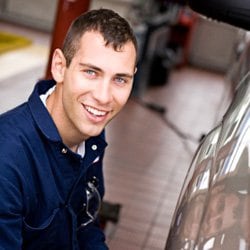 Whether you're looking for an authentic Ford part or a high-quality, vehicle-specific part for a Ford or Lincoln vehicle, the Theodore Robins Ford Parts Center has got you covered. For those looking to purchase Ford auto parts in Costa Mesa, CA, our Parts Center should be your first destination.

Our Parts Center has been serving area drivers for decades and has come to know the importance of using only authentic parts when repairing or replacing a part in a Ford vehicle. With this in mind, as a customer, you can trust that when you visit our Parts Center, you'll be purchasing trusted Ford parts.
When it comes to parts, nothing beats the original. That's why, at Theodore Robins Ford, our Parts Center team is so insistent on using and selling only quality, genuine Ford parts. Whether your Ford or Lincoln vehicle is in need of a replacement battery, new brakes or a new set of spark plugs, our Parts Center has the parts you need to get the job done right without compromising the quality and longevity of your Ford or Lincoln vehicle. And, to further encourage our customers to use only authentic Ford parts from our Parts Center, our team likes to offer an array of attractive parts specials. This way, you'll not only be getting the parts you need, but you'll be getting them for a great price too!
If you are in need of Ford auto parts in Costa Mesa, CA, we encourage you to swing by the Theodore Robins Ford Parts Center. Our team will be more than happy to help you find the exact part that you need and give you some helpful tips on installing it on your vehicle. To speak with a member of our Parts Center team, simply give them a call at 800-849-1316!